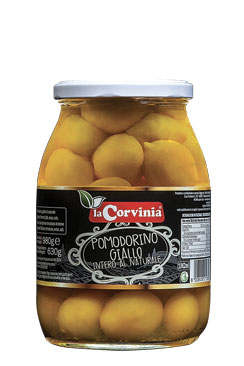 Yellow cherry tomatoes from vesuvio in brine
This tomato has been in the shadow of the red cherry tomato for a while, but recently the yellow cherry tomato has became very popular. It is a close relative of the Piennolo Vesuvio DOP's Tomato. The distinctive feature of this tomato is its strong level of fruit acidity and this component compliments with the sweetness of sauces and therefore making this tomato an ideal ingredient for main meals based on fish. It is also superb on pizzas.
Yellow cherry tomatoes
Salt
Water
Net: 950gr
Drained: 600gr
Enter the world of La Corvinia food specialties:
you too can support Italian excellence.