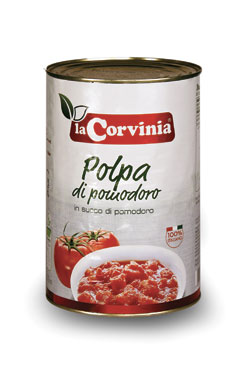 Tomato pulp
With a fresh and full-bodied flavor, it retains all the freshness of freshly picked tomatoes! Obtained directly from fresh tomatoes cut and deprived of seeds, to which its own juice is added, it is mainly used for long or high temperature cooking, suitable for dishes such as fish soups, meat sauce and braised meats but is also widely used in simpler preparations such as bruschetta or pizza.
Crushed tomatoes
Tomato juice
Acidity regulator: citric acid
Enter the world of La Corvinia food specialties:
you too can support Italian excellence.