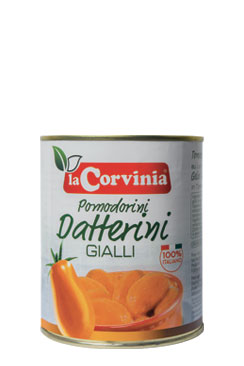 Yellow Datterini tomatoes
It is a particular variety of tomato ,it has a distinctive yellow colour especially at the peak of the product maturation. The yellow plum tomato has a good consistency and it has  a sweet and delicate taste, without any fruit acidity. The best cooking method for this product is a fast amalgamation for base fish recipes. It is, also, ideal for salads and it is amazing in sauce recipes.
Yellow datterini tomatoes in yellow datterino juice
Net: 800gr
Drained: 480gr
Enter the world of La Corvinia food specialties:
you too can support Italian excellence.